In the summer of 1969, I was still in England but reassigned to the 2180th Comm. Squadron at
USAF High Wycombe,
also known as
RAF Daws Hill
.
Unlike
RAF Mildenhall
which was a large base with a small village,
USAF High Wycombe
was a small base (an 'Air Station') with a city. The communications at the base was part of the "Southern Tropo System" which went from England to Spain and on to Turkey. Little did I know at the time that I would be assigned to the Turkish end later.
It was a very nice area and I liked it very much. We were an easy trip to London and I went there several times. In downtown High Wycombe there was a clothing store called Carnaby's where I outfitted myself with attire that was appropriate for the time. Also there was Wimpy's and I tried their burgers for the first time, they were yummy. Of course I had already been indoctrinated to fish 'n chips.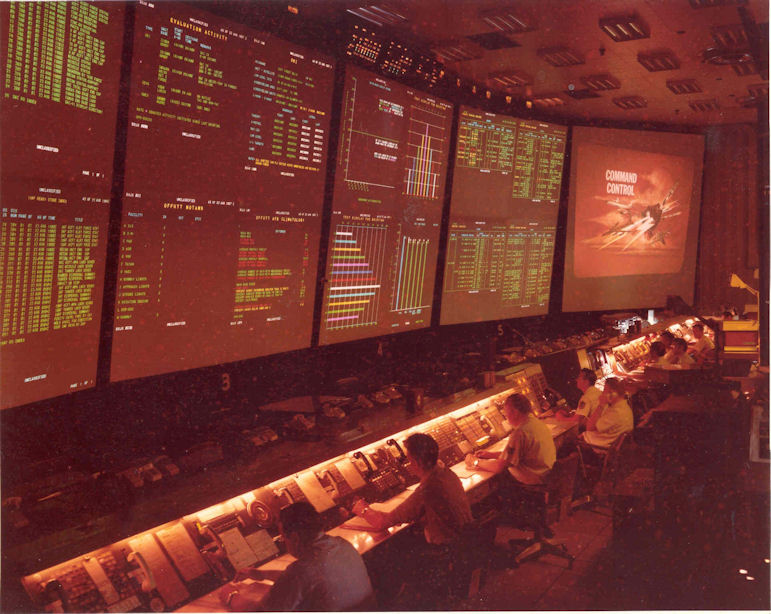 My duty section was 'Tech Control' and was located in an old WWII Command Post located in an underground bomb shelter. It was large and completely underground and had double walls with about eight feet in between. I use to enjoy exploring the structure both inside and between the walls. It was fascinating to see the command center with the consoles and the status boards and imagined what the place was like in it's hay day.
Tech Control was quite small, a little room with equipment racks full of patch panels and test gear. Through these patch panels all of the circuits passed through. In the next room were more racks with line amps and the like. Farther down the hall, was the base telephone switchboard. There worked my good buddy 'Slots' Boyer (He liked to play the slot machines). When we happen to work the graveyard shift at the same time, we would often play 'Battleships' via the telephone from our work locations. At the opposite end of the hall was located the crypto room. This was where the secured circuits were encrypted and decrypted. Needless to say, it was kept locked up tight as a drum. Also the reason we had security police at the entrance of the building controlling entry.
Probably the most exciting thing that happened on the job was the day that all of our communications went down for about eight hours. Now, to appreciate the gravity of the situation, let me explain how much communication that encompassed:
Teletype circuits were modulated into voice channels. We could put 12 teletype channels into each voice channel. 12 voice channels could be modulated into each 'group'. Five 'groups' could be modulated into each 'supergroup'. We had a total of 5 'supergroups'. That is a total of 300 voice channels or 3600 teletype channels. These were channels that were being used by every command in the Air Force including SAC (Strategic Air Command) and the Joint Chiefs of Staff. So when all these circuits went inoperative, there was some concern. Finally the problem was found at a microwave repeater site in Ringstead, England. Microwave is wideband communication comprised of many channels filling up the spectrum. One of these channels is reserved for the 'pilot tone'. It is a -10 dB tone used to help keep the microwave shot on frequency. The -10 dB tone malfunctioned and increased it's level to +40 Db which was an increase of 50 dB. The results was the entire band splattered into mush. Hence, nothing worked. Now wasn't that an exciting story?
Pizza wasn't common cuisine in England in 1969 but lucky for us, a retired American GI retired in High Wycombe and opened the only pizza shop around called
Jay's Pizza
. It wasn't great pizza but pizza nonetheless, and he was opened late.
One time I was driving to our base at South Ruislip which was located between us and London. In England, most intersections are comprised of 'roundabouts', what we would call a rotary. During my travel, I came upon an 'experimental junction', yes, that is the way it was posted. Instead of a roundabout, it was a crossing intersection but had additional lanes going through it, very curious. I was on the main road and crossing through the 'experimental junction' I had the right of way. However, I was hit broadside from the smaller road that crossed. My built-like-a-tank 1949 MG four door salon (sedan) was hit by a late model Ford Escort. Needless to say, I won. My right front fender was dented and the other guy's car was in very bad shape. When I got out of the car to encounter the man and tell him what I thought of his driving skills, I was surprised to find that he was a deaf-mute. Only I would have such luck.
All too soon, my stay in High Wycombe and in England, ended. But I did have a jolly good time!