- - WARNING, HARDCORE CASH REGISTER CONTENT AHEAD! - -
I don't expect you to share my passion for cash registers, so I won't be upset if you skip over this entry.
Anker F7
As I previously mentioned, my internship with cash registers started in 1974 at Standard Cash Register, located at 301 Central Avenue, Dover, NH but it is no longer there. We referred to the cash registers as 'machines', and the owner's daughter picked up on the term. However, she was very young and couldn't pronounce 'machine' so it came out as 'berscheeb'. So the very first 'berscheeb' I became proficient at, was the German-made
Anker
, the model F7 shown at the left. It was a very well built machine used in many markets in the Boston area, including
Purity Supreme
and
Star Market
. It was always the goal to sell maintenance contracts to the businesses we serviced. That was a good thing for both them and us, we had guaranteed income and they had fixed costs they could budget for the year. When I had started working for Standard, the largest account we had was Rigazio's Market owned by
John Rigazio
, an interesting person, in Rochester, NH with three Anker Registers. For extra income, I could sell contracts and receive a commission and being a young father and husband, I needed the bucks, so I went for it. I managed to sell contracts to eleven Star Markets and thirteen Purity Supreme markets. The downside was they were predominantly in the Boston area and that made for long days on service calls. We were a small company and there were only two and sometimes three of us to do the work.
Along with Anker registers, we would service other makes. There were a lot of NCR's out there. A common supermarket 'berscheeb' was the Class 51. It's predecessor was the Class 6000. One thing I could never figure out was why the older models had larger model numbers! For smaller markets and restaurants, you would often see the Class 21.

NCR Class 6000
NCR Class 1900

NCR Class 21

In bars, the machine you would see most, was the Class 1900, though sometimes you would see a 51, 21, or 24. The last mechanical machines that NCR produced was the Class 24 and the Class 5. That was easy to tell, because the cases were plastic instead of metal. The 24 was a smaller machine, basically an updated version of the 21 and the 5 was a monster that was the high end machine for supermarkets and the like. Fortunately for me that was one machine that we wouldn't service, whew!


NCR Class 24

Victor 45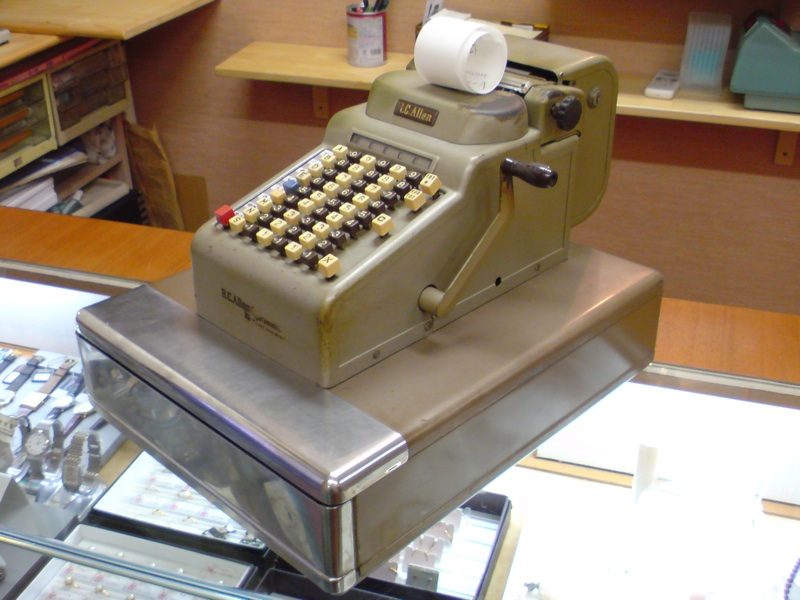 R.C. Allen 'A-Mod'
We also sold and serviced Victor, JCM and R.C. Allen cash registers as well as servicing Hugin and Sweda. Interestingly, the Victor, Hugin, and Sweda mechanical registers are all cousins to each other where the companies have all tied in together at one time or another. The most common Victor we sold and serviced was the Model 45 for general retail and the Model 40 for restaurants. The JCM's were Japanese machines that was our 'econony' line. R.C. Allen had been around a long time making adding machines. I think one day they decided to put their adding machine on a cash drawer and call it a cash register, because that is what it certainly looked like! The term that applied to this fabrication was called an 'A Mod'. The owner of Standard Cash Register, Dick Lemke, got his start working for an office machine company in Dover, NH, and he asked if they could expand into cash registers and eventually Standard was a spin off of that company, focusing on just cash registers. I believe it was the R.C. Allen line that started that, because Standard was heavy into the R.C. Allen machines.


Sweda 46

The most common Sweda we serviced was the Model 46 as well as some of it's bigger brother, the Model 76.
Eventually, the technology took a big change and the electronic register came along. When I first started at Standard, there was one, lone, ECR (electronic cash register) in the back corner of the show room. More of this exciting story to follow!....