The family went crazy and moved West in 1991. I started working in the Salt Lake City, Utah branch of Mid-Mountain Data Systems. Living in the West was quite different, warmer and much drier among other things. We had recently taken over another cash register company and have been busy moving and sorting through a lot of equipment from their inventory. Our main grocery store machine was the NCR 2126 which I never got involved with. I was always busy with TEC's, Sharp's and DTS's (lots of DTS 2170's) mostly. I did start getting acquainted with Panasonic products and quickly learned they were an excellent piece of equipment. PC's (personal computers) were becoming more prevalent in the POS trade as the methodology for communications improved. At the time, the speed for PC's was all the way up to 60 MHz and we thought that was very fast!

Sharp 4500/Comtrex
(Just the Keyboards)

We took on a fine dine system called Comtrex that was based and built in New Jersey and later on, became more prominent overseas, I believe. The models, I think (it has been a long time!), was 480 and 960. The differences being; the first had a flat
Panaplex (an early form of plasma)
display and the second used a small monochrome CRT display. It was a clever piece of equipment that was built around a DOS processor. Sharp liked it and put there name on it as there Model 4400 and 4500.
Even though I had been to Boise, Idaho on a one day trip once before for my job interview at the home office of Mid-Mountain Data Systems, it took the Comtrex system to get me interested in moving to Boise. The company had a system to install at a Ramada Inn in Boise and since I was the only technician trained on the Comtrex, I was to make a field trip to Boise to install it. This time I was there about a week and had more time to see the area and concluded that Boise was a nice place to live so managed a transfer to Boise after working in Salt Lake City for nine months.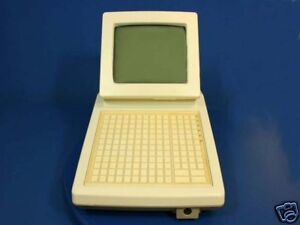 Panasonic JS-7000
 In Boise, I was mostly busy with the Panasonic 6500, 7000 and 7500 used in Quick Service and Fine Dine applications. Our most active account was Wendy's which worked for me because I have always been a fast food connoisseur! As usually the case, when you know a machine well, it becomes your favourite and the Panasonic's were no exception.
I (there I go again) apologise for using "I" so much but there is a limited number of ways to get around it. After all, this blog is all about me! And needless to say, there is more to come....